Our Rating: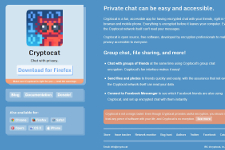 Details
Website: crypto.cat
Price: Free.
OS: iOS
Description
When using Cryptocat all your texts are encrypted on your iPhone so even the Cryptocat network itself can't read your messages.
You can also send encrypted files and photos to friends quickly and easily or have encrypted chat on Facebook.
Also includes group chat.
Registration
Grab the iTunes app here.
Screenshots
User Reviews
Cryptocat User Reviews
PrivacyPulp
Average rating:
0 reviews
If you have had experience of this particular Mobile App please submit a User Review via the tab above. If you wish to discuss Mobile Privacy in general please visit the related discussion topics of our forum.