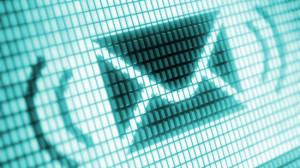 Most email services do provide a secure encrypted connection between senders and email servers, and email servers and receivers.
However, all this is no good if the email service is simply handing over your information to a third party (as Google and Microsoft have been doing with the NSA).
Or the mail service comes under intolerable pressure to cooperate with the government in spying on users as happened last year to Lavabit's owner Ladar Levison who thankfully chose the privacy of users over secret U.S government thuggery by shutting down his service rather than cooperating with their unconstitutional bullshit. At the end of the notice posted on Lavabit's site, there was an ominous warning from him:
"I would _strongly_ recommend against anyone trusting their private data to a company with physical ties to the United States."
Following suit just hours later, Silent Circle pre-emptively did the same to their Silent Mail in anticipation of the same conundrum. Their other 3 services for phone, video chat, and text are still available though. Here's an excellent rundown by TechCrunch.
This was quickly followed by the shutdown of Freedom Hosting and Tormail with Lavabit's shutdown in particular left a lot of users stunned and majorly inconvenienced to say the least, leading many to scramble for new alternatives.
We've checking out some of the many alternatives floating around the web and here's the list we've filtered it down to so far:-
(Note: Only a couple of these have built-in encrypted email capabilities, so using a PGP-ready email client like Thunderbird is necessary. Also, some of these services are being crushed with traffic at the moment due to the Lavabit situation getting so much attention, so if one isn't up, try again later.)

Free Services
Openmailbox.org – Free – (France)
A no frills open source and privacy minded service.
Free email address
Unlimited Disk Space
For encryption you'll need to use PGP with Thunderbird or similar.
Mailoo – Free – (France)
Another no frills service. Subscribing is free and anonymous.
Free email address
1Gb storage, so they strongly suggest using an email client to store more than that.
Agan, any encryption would need to be done locally with a client.
Paid Services
Autistici/Inventati – Donation – (Italy)
(Note: a non-standard/untrusted certificate is being used on their site, so a browser exception is needed to access it. If you don't know what any of that means, probably best to skip this one. On the site they give a Tor .onion address and another address where a valid cert can be obtained and installed.)
This service was mentioned a lot today and while a bit offbeat, sounds like it could be a good way to go especially for just a personal email box.
Overall they sound VERY privacy and activist minded. A glimpse of their overall mindset from their Manifesto:
"Our aim is to reclaim spaces on the Internet where we can discuss and work on two levels: on the one hand, the right to and need for free communication, privacy, anonimity and access to digital resources; on the other, social projects linked to reality and struggles."
Donation based pick-your-own-price model – donate a small amount for an email account, or donate more for a website, blog, VPN, etc.
Email address included.
Unlimited space, but they ask it not be abused.
Not for commercial, organized religion, or organized political party use.
Neomailbox.net – $49.95+/yr – (Switzerland)
Looks like a fantastic and pretty full featured private email solution. Based in an obviously great location for privacy too.
Email address and unlimited thowaway addresses included.
Use your own domain for an extra one time setup fee.
Built-in encryption and many other features.
RunBox.com – Various monthly and yearly packages – (Norway)
Norway has maintained a pretty strong position lately in terms of privacy laws. Some EU directives are being shoved down their throats of course, but enough gaps still exist for services like this to offer very strong privacy protection.
This looks like another outstanding service, especially if you have your own domain or multiple domains for business.
They have an excellent and easily understood overview of privacy in both Norway and how it applies specifically to their service.
Countermail – Various Pricing Plans – (Sweden)
Seems like a pretty robust and full featured offering. A bit pricey though and we noticed a couple people on Reddit wondering about Sweden's increasing capitulation to US demands over the past few years.
Email address and multiple aliases included; can also use your own domain for an extra setup fee.
Anonymous headers
Built-in PGP encryption capabilites
XMPP chat server
Using Your Own Domain
With Neomailbox, RunBox, and Countermail, you have the option to use your own domain.
If you go that route, just grab a cheap domain through a privacy-conscious registrar. Two we'd suggest are Internetbs (Bahamas) and NameCheap (US). There's also Gandi.net (France), only thing is they only offer a partially private whois registration.
Other Ones to Watch
Startmail – Coming Soon – Free – (Netherlands)
Still in beta, but this sounds really promising. It's from the creators of the privacy search engine StartPage. It's not open for use yet, but you can sign up to either become a Beta Tester or just get on their list for the latest updates.
MailPile – In Development – (Iceland)
Great client-side email project to support and use. Go Iceland!
ProtonMail – In Beta – Free – (Switzerland)
Developed by researchers at CERN in direct response to the Snowden revelations this could be the future of secure email. The data is encrypted on the browser and then a two password system ensures there is no way anyone can access email content.
Still in Beta and currently closed to new signups but that should change very soon.
These are all we know about so far that look decent or are at least somewhat usable. If you know of more or have any other suggestions, chime in below in the comments.
Peerio – Beta
End-to-end encrypted email, IM and file storage.
Peerio generates a user's private encryption key from his or her unique passphrase every time he or she logs in. No-one at Perio can access your files and messages.
Peerio review and more details
Please add your comments below or in the related discussion topic of our forum.