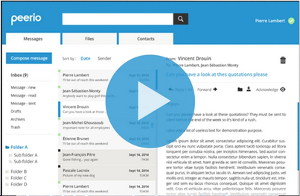 Nadim Kobeissi, the guy behind Cryptocat and Minilock, has just launched in beta what he calls an "encrypted productivity suite" called Peerio.
It combines email, IM and file storage and anything sent via Peerio is encrypted before leaving your computer and can only be read by you and your recipients. No-one at Perio can read them.
Peerio generates a user's private encryption key from his or her unique passphrase every time he or she logs in. When the app is closed, the key evaporates too.
You can upload and share end-to-end encrypted files of up to 400 megabytes up to an initial storage limit of 1GB.
Peerio confirms your messages and files have been delivered, and lets you know when your recipient has read your message or downloaded your file.
Remote file destruction means you can delete any file from the entire network and all users at any time.
The software has launched as a Windows and Mac app as well as a Chrome plugin and will be added to mobile platforms soon. It is extremely easy to use and looks like a cut-down version of Gmail with IM and file storage.
However, don't expect cloud storage of the sync-able type that you get with Dropbox where any changes you make locally are updated in the cloud and then synced with your other devices. Rather you simply upload or download files and any changes would require a fresh upload.
It's free to use but the company will at some point start charging a fee for premium features like storage beyond the initial one gigabyte limit.
You can download the Peerio app here or get the Chrome Add-on here.