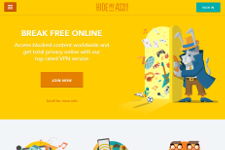 Our Rating:





HideMyAss
is probably the best known VPN service provider on the market and they are constantly upgrading their server network adding more and more countries each month.
The client software is extensive and feature packed and yet easy to set-up and use. Pricing is competitive for the longer term plans and their support is good.
Details
Editor's Review
Screenshots
User Reviews
If you have had experience of this particular VPN service please submit a User Review via the tab above. If you wish to discuss VPNs in general please visit the related discussion topics of our forum.