Our Rating: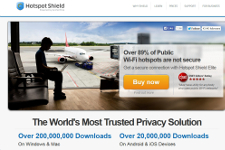 Details
Website: hsselite.com
Price: Free. Elite version from $2.49 / Month.
OS: Android, iOS
Description
Hotspot Shield provides a very basic VPN service connecting to random servers in the US, UK and Australia which means if you are outside of those countries you're likely to experience a slower connection and other oddities (Google searches).
The no-ads Elite version offers better speeds, blocks malware and can save you money by compressing data. No access to P2P or torrents with either version.
Supports Android 2.x/4.x and iOS.
Registration
To register for the Elite version visit www.hotspotshield.com. To try the free version download from the Google store here or the iTunes store here.
Screenshots
User Reviews
Hotspot Shield User Reviews
PrivacyPulp
Average rating:
0 reviews
If you have had experience of this particular Mobile App please submit a User Review via the tab above. If you wish to discuss Mobile Privacy in general please visit the related discussion topics of our forum.