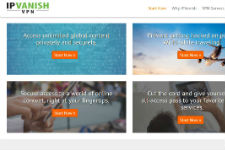 Our Rating:





IPVanish
has expanded rapidly over the last year and now has one of the largest VPN networks in the industry. Speeds across the network are among the fastest and their latest version 2.0 software is both easy to use and feature packed.
Their Privacy Policy is robust and they do not log any user activity. Shared IPs ensure that tracking individual usage is not possible.
Excellent apps for Android and iPhone, iPad means you are protected on the move and you can connect multiple devices with each account.
Details
Editor's Review
Screenshots
User Reviews
If you have had experience of this particular VPN service please submit a User Review via the tab above. If you wish to discuss VPNs in general please visit the related discussion topics of our forum.