Our Rating: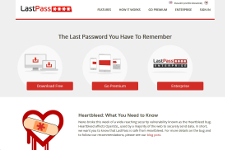 Details
Website: lastpass.com
Price: Free 14 day trial then $1 / Month
OS: Android, iOS
Description
Excellent and award winning password manager. Securely syncs your passwords across all your browsers and devices.
With just one master password, once you are logged in, Lastpass remembers all your user names and passwords and automatically fills them in for you.
Includes a secure password generator and form filler and a secure notes feature.
Use on your lap-top, PC for free but the mobile version is part of the premium package at $12 / year.
Registration
To register for the Premium version visit www.lastpass.com. To try the free version download from the Google store here. Or the iTunes store here
Screenshots
User Reviews
Lastpass User Reviews
PrivacyPulp
Average rating:
0 reviews
If you have had experience of this particular Mobile App please submit a User Review via the tab above. If you wish to discuss Mobile Privacy in general please visit the related discussion topics of our forum.