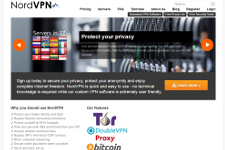 Our Rating:





NordVPN
has a smallish network of servers in 12 countries at the moment. The OpenVPN client software is basic and no frills but easy to set up.
They place strong emphasis on user privacy and this should stand them in good stead as the expand their network.
Details
Editor's Review
Screenshots
User Reviews
If you have had experience of this particular VPN service please submit a User Review via the tab above. If you wish to discuss VPNs in general please visit the related discussion topics of our forum.