Our Rating: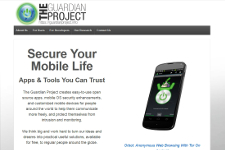 Details
Website: guardianproject.info
Price: Free
OS: Android, iOS
Description
Orbot uses the Tor network to encrypt your internet traffic. Tor uses Onion Routing to provide access to network services that may be blocked, censored or monitored.
If your phone is jailbroken/rooted then you can choose to route all app traffic over Tor. Otherwise you can use further apps that have a proxy feature, like Orweb and Giggerbot.
Registration
Grab the free Android app here.
Grab the free iTunes app here.
Screenshots
User Reviews
Orbot User Reviews
PrivacyPulp
Average rating:
0 reviews
If you have had experience of this particular Mobile App please submit a User Review via the tab above. If you wish to discuss Mobile Privacy in general please visit the related discussion topics of our forum.