Our Rating: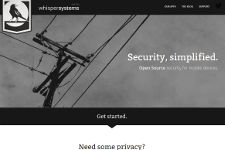 Details
Website: whispersystems.org
Price: Free
OS: Android
Description
Redphone from whispersystems.org is an open source app that secures and encrypts all your calls to other Redphone users.
RedPhone uses your normal phone number, default system dialler and contacts apps to make and receive calls as you normally would.
You can chose whether or not to encrypt calls and the app uses wifi or data, not your plan's voice minutes.
Registration
Grab the free app here.
Screenshots
User Reviews
Redphone User Reviews
PrivacyPulp
Average rating:
0 reviews
If you have had experience of this particular Mobile App please submit a User Review via the tab above. If you wish to discuss Mobile Privacy in general please visit the related discussion topics of our forum.