Our Rating: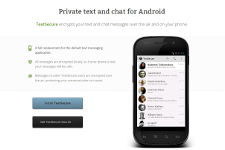 Details
Website: whispersystems.org
Price: Free
OS: Android
Description
TextSecure from Open WhisperSystems offers full end-to-end encryption for text messaging to other TextSecure users.
It replaces the the default text messaging application and all messages are encrypted locally so if your phone gets lost your messages will be unreadable.
It uses the data network when available and would therefore be free over wi-fi. If unavailable it uses the SMS network in which case messages would not be encrypted.
You can also set-up encrypted groups and have private conversations with many contacts at once.
Registration
Grab the free app here.
Screenshots
User Reviews
TextSecure User Reviews
PrivacyPulp
Average rating:
0 reviews
If you have had experience of this particular Mobile App please submit a User Review via the tab above. If you wish to discuss Mobile Privacy in general please visit the related discussion topics of our forum.