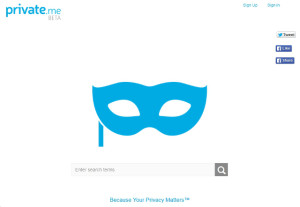 Private.me is a new search engine that let's YOU control who has access to your data.
Currently in beta Private.me promises your:-
Your Internet searches will stay private.
You can safely save your searches, and recall them later as needed without the threat of anyone seeing them.
No single person, company or outside entity can capture or access your search history or personal information.
When you aren't accessing your search history (or explicitly granting access to it), all of your information remains encrypted, sliced, geographically dispersed, and stored with a dispersed system of servers controlled by nonprofits set up to be stewards of user data.
By way of a simple control panel you can decide whether your data can be accessed never, for the current session or always.
Search results are pulled from the top search engines and should be as good as as any other search site.
You can store and access your search history even though you'll be the only one using or accessing that data and receive relevant ads if you wish. You can also erase your search history at any time.
Being in control of your own search data prevents it from being accessed by third party marketers or any unauthorized data collectors.
The development of privacy solutions like the Private.me search engine are always welcome and we encourage you to check it out.