Currently in beta, Privacy Badger from EFF is a browser add-on that blocks third party trackers and spying ads. We've been testing it for some weeks now and have been impressed with it's ease of use, its effectiveness and the control over privacy it gives to users.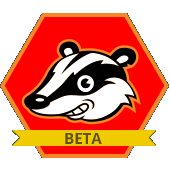 It's important to note that it is NOT an Ad Blocker in the traditional sense and there's nothing in the code design that explicitly blocks ads.
Rather it focuses on "third party" scripts or images that appear to be tracking you even though you specifically denied consent by sending a Do Not Track header.
You may have set your browser to send Do Not Track requests but some sites and advertisers simply ignore these requests. Privacy Badger aims to plug that gap and overtime create incentives for advertising companies to do the right thing.
"Users who install Privacy Badger aren't just getting more privacy and a better browsing experience for themselves — they are providing incentives for improved privacy practices and respect for Do Not Track choices across the Internet"
Says Peter Eckersley, EFF Technology Projects Director.
It's a synch to set up and use. (Note: It's Firefox and Chrome only at the moment but versions for Opera and Firefox Mobile are in the pipeline.) Just grab the download from here and it's off and running.
At first nothing happens but as you browse around the web the the Badger analyses the pages and if it detects any tracking cookies it will automatically disallow them and let you know via a pop-up when you click on the icon in your toolbar.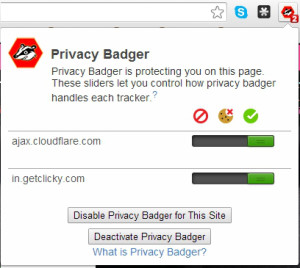 Any sites it blocks will show as red or yelllow on the slider and you can allow them individually or even disable Privacy Badger altogether. This puts you in ultimate control over who can track you.
By default if a third part domain is flagged red this means that content from this third party tracker has been blocked completely.
Yellow means that the third party domain appears to be trying to track you, but when analysed, seemed to be necessary for Web functionality. Privacy Badger will load content from the domain but will try to screen out third party cookies.
Domains will only be blocked or screened if the Privacy Badger code inside your browser actually observes the domain collecting unique identifiers after it was sent a Do Not Track message.
On the rare occasions that you find it interferes with a site's workings too much, simply move any relevant sliders back to green.
We think it's a great tool for improving your privacy on the web and a welcome addition to our Secure Browsing tool kit.
We do however, remain somewhat baffled by the name lol